How to write a press release [TOP tips!]
PUBLSHED 20/09/2023 by Alison Lancaster CEO of Pressat
UPDATED: 29/09/2023

Press releases are a core aspect of public relations (PR) for any company. Because they require writing by an experienced professional and don't always get a reply, some company owners find them laborious. But with a bit of practice and the right tips, tricks and formula, anyone can write a press release that drive impactful results and a cool ROI.
But what constitutes the anatomy of an effective press release? Furthermore, which categories of press releases offer the most advantages? This article will guide you through the art of crafting a compelling press release, complete with a valuable press release template. Continue reading to gain deeper insights into the art of press release writing, or utilize the provided links for seamless navigation.
How to write a press release QUICK GUIDE
Craft a Captivating Headline: Begin with a compelling headline that not only conveys the essence of your story but also captures the reader's attention. Take inspiration from headlines in the target publication to create an engaging one.
Incorporate Key Details: Ensure to include the release date and your location, providing essential context for your readers. This information not only establishes the timing but also the relevance of your press release.
Deliver the Essentials Quickly: The opening paragraph should encompass the "Five Ws" – Who, What, Where, When, and Why. This succinctly informs journalists about the critical aspects of your story.
Provide Context Gradually: Subsequent paragraphs should furnish additional details in a descending order of significance. While conveying what you do and why it matters, maintain clarity and conciseness, avoiding an exhaustive history.
Maintain Objectivity: It's crucial to present a balanced and unbiased perspective. Avoid hyperbolic claims and focus on factual representation, unless you have a legitimate award or recognition to support such claims.
Simplify Language: Ensure your press release is free from industry jargon that might alienate the average reader. Seek input from a non-specialist friend to gauge its accessibility and consider edits for clarity.
Include Impactful Quotes: Enhance your press release with insightful and relevant quotes. Whether from yourself or a key team member, these quotes should add color and depth to the story while staying attributed.
End with a Proper Sign-Off: Sign off your press release in accordance with industry standards for your region. Common options include ###, XXX, or -30-. Research the conventions relevant to your target audience.
Provide Contact Information: At the bottom of your release, include clear and comprehensive contact information for follow-up inquiries. Include a name, email address, phone number, and links to your business's online presence.
Craft a Boilerplate Summary: Conclude with a boilerplate section summarizing your business, akin to what you'd find on your website's "About" page. Ensure it's up-to-date and accurately reflects your business's core information.
What will you learn in this guide?
How to write a PR from start to finish
How to format the press release
Top tips to improve the release
When to send it
Whether to include images/ links and multimedia
How to write a PR from start to finish
By following this guide it will enable you to tell your story in a clear and precise manner which will hopefully give you the end result which is a newsworthy press release that's going to score big coverage.
Press releases are a must-have for any company's PR efforts. Despite their inherent challenge of needing to be crafted effectively, some business proprietors might find them daunting. However, by getting some experience and utilizing the proper strategy, it is possible to produce a press release that results in success. And by that we main gaining major media coverage in newspapers, blogs, radio and TV stations.
What exactly is a press release?
In short a press release is a factual statement used to communicate news about your business/ event/ brand or even yourself to the media. Normally it's in the form of a document which consists of text, facts, images and so on.
Who wrote the first press release?
Ivy Lee, who used to work in journalism, provided the very first press release written on behalf of his customer, the Pennsylvania Railroad. This was created when responding to a 1906 train crash and was meant to guarantee that the news outlets were given precise details about the incident. His statement was printed by The New York Times exactly as he had crafted it.

Find out more about Ivy Lee via the News Museum or via Wikipedia's dedicated page for Ivy.
Why do you need to write a press release?
There are various motives to settle on a certain article format, but the press release has clear advantages for businesses. Here are some of the primary advantages of this type of writing.
To gain media attention
When you craft a newsworthy press release, the media may share it. This increases your visibility and helps bring new eyes to your organization.
Generate brand awareness and publicity
Small businesses have a lot of work to do to increase brand awareness. Creating press releases can assist in attracting attention and generating interest in your company.
It helps boost your search ranking
Search engine optimization (SEO) is of high significance for many businesses and entities, aiding your firm's website to feature prominently in search engine results. A meticulously written press release can greatly improve SEO performance, providing it includes pertinent keywords or is shared by other websites. The other way it drastically helps is via building natural links back to your website, Forbes has a create article on Digital PR here.
You might be wondering how exactly? Well if you take a look at these coverage report samples of Pressat clients, many of them gained coverage and backlinks from big publications which will eventually provide authority to the domain and increase the overall ranking of the website.
They can shape how the public views your business and brand
Making sure people have a favorable impression of your brand is just as critical as making sure they learn about it. Utilizing press releases and email marketing will allow you to control the public's perception of your organization. Forming a strong identity through these strategies is essential for developing a good reputation.
When should you write a press release for what reason?
You can use press releases to share information about a major change or addition to your business, such as the hiring of key figures or developers, a merger, new products or other remarkable occasions. Additionally, it's also a great way to spread the word about awards your company or staff have received, helping to cultivate admiration and respect for your brand.
How to write a press release or announcement
When writing a press release, this format can help ensure you have better chances of getting a response. Not only that, it also provides a platform to share your story while increasing the odds of media coverage.
Come up with a strong headline that communicates the subject of your article and compels readers to keep reading. Take a look at the headlines in the publication that you're writing for and use them as inspiration to create something similar.
Ensure you specify the date and your business' location when formulating your press release. This information assists with understanding the relevance of your news.
Sample press release layout: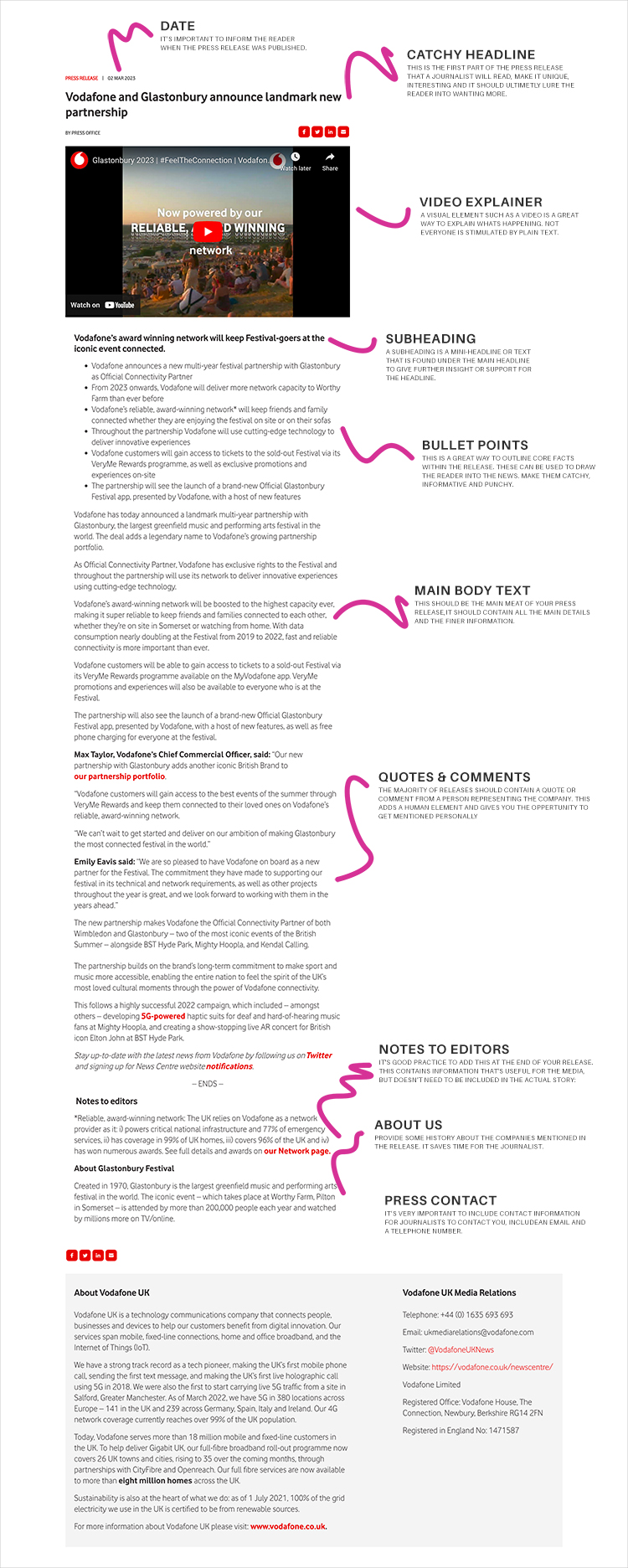 Deliver the essentials promptly. The introductory part should include the five Ws – who, what, when, where and why – which gives the reporter all the essential details.
Who exactly is the news about?
What's going on?
When is it going to happen?
Where is this taking place?
What is important about your news?
This narrative focuses on a particular character. It follows their journey and experiences.
It is essential to take this into consideration. It is crucial to understand its importance.
Provide more of a backgrounder/ context. After the introductory paragraph, give other pertinent details of the narrative in order by significance. Make it clear and plain. Describe the actions you take and your motivation for them, but do not make an exhaustive chronicle of all you've ever done.
Be truthful and impartial. Journalists won't be taken in or tickled by a press release proclaiming your product or service is "the greatest." Unless you're informing them of an award that verifies the statement, be watchful with extravagant language. If unsure, simply lay out the details.
Eliminating industry specific terminology is essential when writing a press release. Have someone, who isn't familiar with your area of expertise, evaluate your content to ensure it's easy to understand. If they find the text too complicated or unengaging, revise it for simplicity and brevity.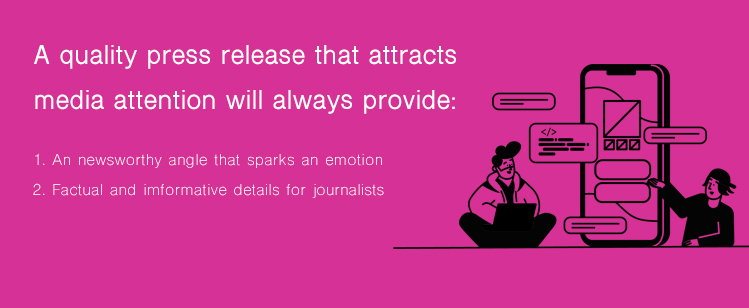 For a vivid press release, include relevant and engaging quotes. This could be your own, or from someone involved in the news item - making sure to attribute it. The quote should capture their feelings or insights surrounding the issue; there's no need to stay neutral!
Close your press release with a sign off that is congruent with industry standards in the country of release. You can find out what is typically used by looking into local conventions; common examples include
Provide the essential contact information at the bottom of the press release; include a name, email address, phone number, URLs and any social media accounts associated with your business. That way, the reporter knows exactly who to reach out to.
Include a boilerplate summary of your business at the bottom of press releases. This is known as boilerplate text, which should be routinely checked for accuracy prior to sending out any update. It is similar to the kind of information found on a website's "About" page and serves as a concise introduction to your business.
Writing a press release can be intimidating for those not accustomed to producing public statements, prompting some business owners to hire external PR agencies.
Download our free press release templates
A press release template will save you time by providing an easily accessible example. This means writing a press release becomes easier and faster. Download one here, if you need it!
This free press release template can be used for creating your first announcement. It is designed to help you write an effective press release that will capture the attention of reporters and readers alike. It can be adapted easily, with the relevant information, so you can customize it for your own needs.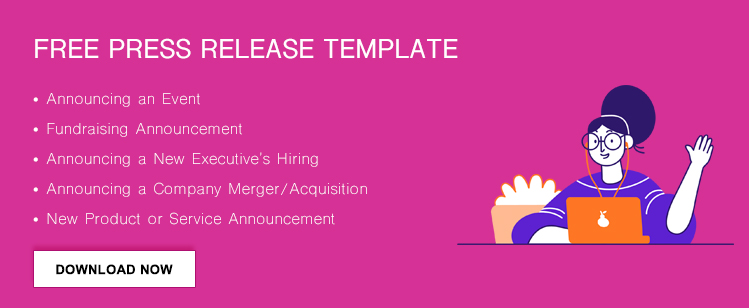 Make sure you double check your PR for accuracy. Take another look to ensure you have included all the relevant information, and that all facts are accurate. Show a friend or work partner, they can run a second pair of eyes for mistakes and feedback.
Check and make sure it's newsworthy
Make sure to only distribute press releases when you have something substantial to report, and make it brief. To increase the odds it will be opened, limit its content to what can fit in an email body, and research which journalists cover your topic. Craft a personalized message they can easily understand.
Through investing time and effort in mastering your press release writing, you can cultivate lasting connections with journalists who will advertise your stories. As a result of such relationships, you'll have more opportunities to spread the word about your business and foster growth.
Once you have sent out press releases, it is essential to monitor the results of your PR campaigns. Examining analytics to work out how effective your marketing efforts have been can help you reach the right people and continue growing your brand.
Further reading and tips

One of our most popular guides: DON'T SEND A PR WITHOUT READING THIS! is well worth checking out, it's the most frequent and biggest mistakes you should avoid when sending a press release.
Here are our best tips for composing an effective press release: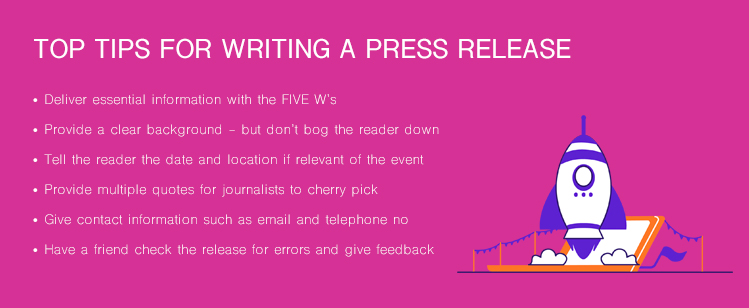 FAQ's
What is a press release?
A press release, also known as a news release or media release, is a written or recorded statement that is distributed to the media, including journalists, editors, and reporters, with the aim of announcing news, events, or developments related to an organization, company, product, or service.
Press releases are usually designed to generate publicity and media coverage for the subject of the release. They typically contain factual information about the subject, including quotes, statistics, and background information. They are often written in a specific format, with a headline, subheadings, and body text that provides all the necessary details about the subject of the release.
Press releases are an important tool for businesses, non-profit organizations, and government agencies to communicate with the media and the public. They can help to increase visibility and brand recognition, establish credibility, and generate interest and excitement about a new product, service, or initiative.
Should I include images in a press release?
Yes, including images in a press release can be beneficial in enhancing the overall impact of your release. Visual content, such as images and videos, can help to make your press release more engaging and memorable, and can also help to convey your message more effectively.
Here are a few tips for including images in your press release:

Choose relevant images that support the content of your release.
Make sure your images are high quality and visually appealing.
Include a caption or description for each image to provide context.
Use appropriate file formats and sizes to ensure that your images are easily accessible and load quickly.
Avoid using copyrighted images without permission or proper attribution.
Overall, including images in your press release can be a valuable addition to your communication strategy, but it's important to use them strategically and appropriately.
Do I need to include a phone number in a press release?
Yes, it's generally a good practice to include a phone number in your press release, especially if you want to make it easy for journalists or members of the media to contact you for further information or to arrange an interview.
When including a phone number in your press release, make sure it's a number that someone will answer or that has a voicemail set up with instructions on how to contact you. Also, be sure to include the area code if it's a local number or the country code if it's an international number.
In addition to a phone number, you may also want to include an email address or other contact information, such as a website or social media account, depending on your preferred method of communication.
Overall, including clear and easy-to-find contact information in your press release can help to ensure that members of the media can reach out to you with any questions or to follow up on your story.
When is the best time to send a press release
The best time to send a press release can vary depending on a number of factors, including your target audience, the nature of your news, and the industry you're in. However, here are some general guidelines to consider:
Avoid sending press releases on weekends or holidays when journalists and editors may be less likely to be working.
Aim to send your press release early in the week, preferably on a Tuesday or Wednesday, when journalists may have more time to review it and follow up with you if needed.
Consider the time of day when you send your press release. Mid-morning or early afternoon is often a good time, as it gives journalists time to review your release before their deadline.
If your news is time-sensitive, such as an event or product launch, send your press release several weeks in advance to give journalists plenty of time to plan and prepare their coverage.
Be mindful of any major events or news stories that may be happening at the same time, as this could affect the visibility of your press release.
Ultimately, the best time to send a press release depends on your specific goals and target audience, so it's important to do your research and consider what will be most effective for your particular situation.
How many words should my press release be?
A press release should typically be between 300 and 800 words. It's important to keep in mind that journalists and editors receive a large number of press releases on a daily basis, so you want to make sure that your release is concise, informative, and easy to read.
When writing your press release, focus on the key messages and facts that you want to convey, and try to avoid unnecessary details or jargon. Use clear and straightforward language, and organize your release with a headline, subheadings, and short paragraphs to make it easy to scan and digest.
It's also important to keep in mind that different media outlets may have different guidelines or preferences when it comes to press release length, so it's a good idea to do some research and tailor your release to the specific publication or platform you're targeting.
Overall, a well-written and focused press release that conveys your message clearly and concisely is more likely to get noticed and generate interest than a long, rambling release that's difficult to read and digest.