PR tips for small businesses that don't cost the earth
One of the most important factors when growing a startup business is the need for an effective and financially practical PR campaign.
While every start up business dreams of being able to jump head first into paid campaigns, they are not always a viable option. If you take the time to research your industry thoroughly, you will be surprised at the range of free and low cost opportunities that present themselves.
So with that in mind, here are some of the lesser known, yet very effective methods, of gaining media exposure that can be applied to your next PR campaign.
1. Contributing Copy
If getting print coverage for your business is key, then you will often find that most publications forward think and have a system in place to manage and plan their future content and third party contribution slots.
Magazines for example often use editorial calendars(Ed Cals) which are presented as timelines and contain a variety of opportunities for businesses to contribute. These often come in the form of interviews, reviews, expert opinions and even freelance articles.
For example, a local Manchester based newspaper we recently worked with asked bakeries, sandwich shops, coffee shops and restaurants to send in a fresh batch of their mince pies for a chance to be critiqued in their festive food guide. This request was placed on their Ed Cal.
One local restaurant in the area took advantage of the request and as a result received a gleaming five star (5*) rating for their mince pies in the December edition. This coverage helped to drive table bookings up by 60% over the festive period, not to mention the word of mouth publicity it generated, placing the eatery in the culinary spotlight.
Such opportunities clearly highlight the success businesses can achieve when they garner the requests of editorial calendars/timelines.
Obtaining an Ed Cal or content timeline is straightforward, although the process does vary from publication to publication. They can usually be requested from editors but some publications also include them within their Media Kits (these are a prepackaged set of promotional materials for upcoming stories).
How to obtain an Editorial Calender?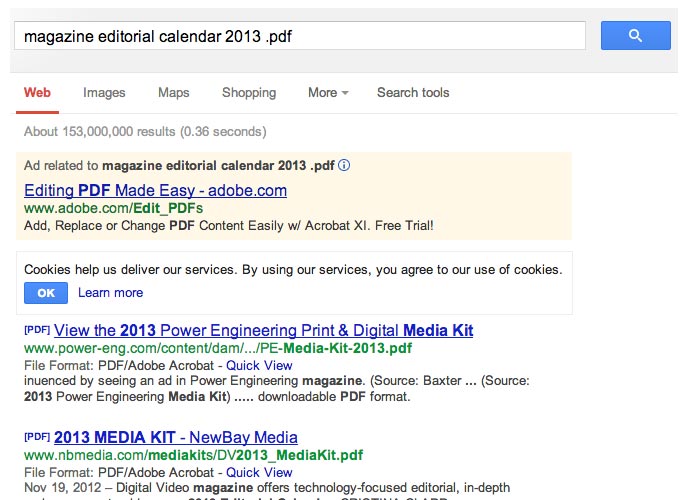 2. Media Enquiries
Media enquiries, also known as journalist requests, are similar to editorial calendars in that the offer comes directly from the publication.
Recently a journalist from a computer magazine reached out to local businesses in Scotland via social networks looking for comments on the lack of 'high speed broadband in rural areas' and how this affected trade. Such comments provideed the journalist with real quotes from a relevant audience whilst providing free publicity for the businesses that actively participated.
Media enquiries can be found by simply following and communicating with journalists via social networking platforms where they often submit such requests. Twitter is probably the best place to start your search, hashtags such as #prrequest and #journorequest https://twitter.com/search?q=%23journorequest provide a regular stream of requests.
#journorequest
#prrequest
Let us know of anymore.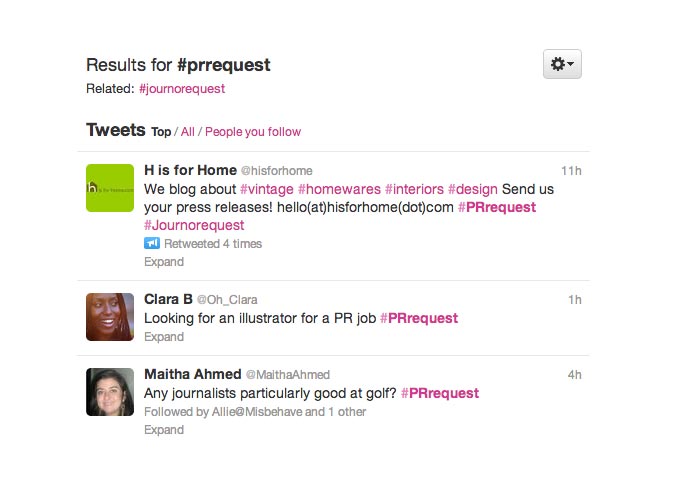 3. Become an expert in your industry
You've no doubt come across articles in a variety of publications which include comments from relevant experts. A quote from an industry expert often helps round off an article and emphasise its authenticity and authority. It also publicises the company who is doing the quoting.
By keeping an active social presence on platforms such as Twitter, Tumblr and Linkedin, you can help define yourself as an expert in your sector, creating a trail of all your niche involvement and contributions. This can be achieved through commenting/blogging on the latest news and interacting with fellow users/ journalists.
A good example of this in action was when a BBC radio station was planning on conducting a live debate about a new "fat busting drug"coming to the market. The researchers at the station needed to find niche experts to debate and express their views on the topic.
To achieve this they took to services such as Twitter and Tumblr to quickly find dieticians who were actively taking part in discussions and regularly providing diet advice to fellow web users. This ultimately led to two dieticians introducing themselves and their business to thousands of live listeners which drummed up priceless new enquiries.
4. Press release distribution
With fierce competition in almost every sector of business, the press release can be a trustworthy and reliable avenue for many small business owners.
For example a Florist in Chorlton recently acquired a new shop and needed to make local media aware of its presence, however it could not afford to hire a PR agency as the costs were too great.
In this case Pressat, press release submission website was used to contact relevant media contacts on an ad-hoc basis helping the florist target niche audiences through a low cost solution.
Distribution services generally have years of experience and contacts with journalists making their services invaluable to companies that wish to share their news with the world but have a tight budget.
5. Guest speaking
Offering your expertise through guest speaker slots at a university or higher education institution allows you to circuitously publicise your organisation.
For example a business owner in the digital sector could offer their free time to guest lecture at a local university highlighting elements of their business.
This type of engagement with enthusiastic students, who are not only interested in a career in the digital sector but also hearing first hand from an expert helps the business owner publicise themselves and their business whilst familiarising their name and reputation with those who are most likely to be working in the field in the future.
This technique also produces more good will for your business as it is unquestionably seen as 'giving back to the community'.
Such opportunities are often advertised on university websites or within both local and student newspapers.