The founder of Virgin, Richard Branson, is not shy in displaying his creativity, and he's even been nicknamed the 'undisputed king' of PR stunts. Here are sixteen of his popular stunts, with a snapshot description of each.

Introduces 'Richard' ice cubes on Virgin flights
Imagine a picture of Sir Richard on an ice cube. To promote the launch of the Upper Class Cabin on his Airbus A330-300, the founder of the Virgin brand created 'Little Richard' ice cubes for its first class passengers. They included Sir Richard's face, his mane of hair, and a cheeky smile. What's even more incredible about this stunt is that the ice cubes were made to the exact dimensions of Sir Richard's head.
Dresses in drag – again – to complete the circle
The Virgin founder set a bet with the CEO of AirAsia, Tony Fernandes, over the 2010 Bahrain Formula One GP. Sir Richard lost the bet and agreed to dress in drag again on the 1 May 2011 flight to Kuala Kumpur, serving as a flight attendant. With all monies raised donated to charity, Sir Richard's latest stunt also attracted further entertainment on the flight from Sav the Deceptionist and Eddie and The Robbers.
Poses in 'stiff competition' underpants

To promote the 26 domestic daily flights from London Heathrow, Manchester, Aberdeen, and Edinburgh, named 'Little Red, Sir Richard pulled up his Harris Tweed kilt to reveal a pair of underpants donning the words 'stiff competition'. Going head to head with rivals, British Airways, Virgin Atlantic's Little Red offers consumers value for money flights with the unique rock and roll spirit of Virgin Atlantic. Another Virgin stunt that helped Sir Richard's profile expand.
Kite-surfing with naked model on his back

In 2009, Sir Richard kite surfed with a naked girl on his back. While many people believed that the photo was manipulated, or fake, he explained the full details of how the picture came about in an interview with the UK's Telegraph. A photographer appeared with his girlfriend at Anagarda Island, and she asked whether she could kite surf on Sir Richard's back. When the boyfriend asked him whether he minded his girlfriend naked during the kite surf, the picture was taken, and the rest is history.
Goes in drag for Virgin Brides launch

This stunt took place in 1996, where Sir Richard wore a wedding dress costing $10,000. His infamous beard was gone, in favour of pink lipstick, blue eye shadow, and pearl earrings, while the popularity of Virgin gained eminence. This PR stunt was for Virgin Brides, which stopped trading after eleven years in 2007. This clearly displayed Sir Richard as the head of a brand that is not afraid to poke fun at himself, whatever the means to gain that recognition in his efforts to propel the Virgin brand.
Dresses as Birdman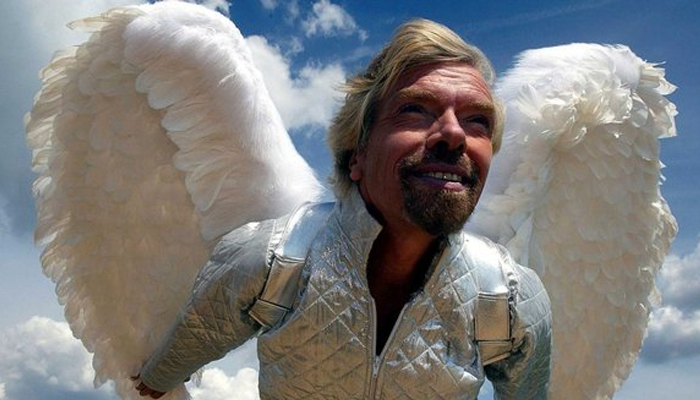 Can you imagine Sir Richard Branson dressed as an angel with a smile? This 2003 stunt saw the Virgin founder walking with a pair of white wings, as part of the Bognor Birdman community event whereby contestants jump off a pier in an attempt to 'fly' across the English Channel to France. Behind several of the more advanced 'birdmen' flying through the small English seaside town, Sir Richard didn't quite make it that distance, but this particular stunt boosted the profile of the Virgin giant.
'Drives' car across the Channel in a tux

This 2004 act saw Sir Richard crossing the English Channel, flying through the waves in a Bond style Aquada sports car. The trip from Dover to Calais took just 1 hour 40 minutes, and what's more the Virgin founder looked the part in a stylish tux. Once again, Sir Richard is displaying his audacious personality, and succeeding in boosting his profile, where other individuals may have failed. In the style of the Virgin giant, whatever he does only seems to boost his global standing, and this stunt did exactly that.
Slings Dita von Teese over his back for Virgin Media

Dita Von Teese is an attractive burlesque performer known for her provocative, sexy moves on stage. In 2007, Sir Richard threw Dita over his back in a PR stunt to promote the latest addition to his profile, Virgin Media. Today, with top celebrities including Dr Who's David Tennant, and Olympic Gold Medallist, Usain 'Lightning' Bolt, promoting Virgin Media and its super fast fibre optic cable service, Virgin Media (and its TIVO box) has proven to be a popular choice for households worldwide.
Round the World by Hot Air Balloon

The overall brand success of Virgin is largely apparent from Sir Richard's profound knowledge of marketing and carefully crafted PR stunts, designed to create an impact and drive his brand forward. In 1987, Sir Richard succeeded once again with his hot air balloon named the Virgin Atlantic Flyer. This stunt pushed the Virgin owner into the world records as the largest, and fastest, hot air balloon to cross the Atlantic. He achieved further record breaking with his 1998 air balloon flight from Morocco to Hawaii, but sadly failed to retain the global record.
Arrives in Spacesuit for Press Conference Launching Virgin Galactic

The Virgin brand unveiled its latest stunt for the launch of Virgin Galactic in 2004, which saw Sir Richard attend the press conference wearing an astronaut's suit. This latest venture would offer the paying public the opportunity to travel into space. In typical Virgin style, Sir Richard also cloned the infamous Buzz Aldrin photo shoot where he has a joyful expression on his face looking into outer space in his astronaut suit, his helmet by his right side, and the finale of a quaint surrounding. Although this particular phase of Virgin has not yet reached outer space, plans are still in development.
Drives Tank Down Fifth Avenue to Launch Virgin Cola

When Virgin Cola was manufactured within the US market in 1998, Sir Richard drove down Fifth Avenue with a tank, and sought to blow up the infamous Coca-Cola signpost situated in Times Square. Hurling the Virgin Cola brand against giants like Coke and Pepsi, made this PR stunt particularly memorable, however, it wasn't enough to ensure the long-term success of this beverage. The promise of an unfurled war against these fizzy drinks giants was one that Sir Richard, unfortunately, did not win going forward with the falling sales of consumers. The drink is rare to find in the US.
Bares Butt to Mark Arrival of Virgin Atlantic in Canada

Sir Richard famously stripped down to his bare buttocks, together with several of his colleagues, in an effort to mark the Airline's landing in Canada. With VI RG IN AT LA NT IC, two letters each proudly displayed on the bare butt cheeks of each member, with Sir Richard advertising A and T, once again, this displayed to the media, and the general public, that he is not afraid to publicise his brand, whatever 'bare butt' jokes come his way.
Poses as Zulu Warrior to Celebrate Flights to South Africa

Sir Richard is not afraid of playing 'the part' to ensure the survival of his infamous Virgin brand. In this PR stunt to highlight the Atlantic's ventures into South Africa, he gained media interest by attending a cultural centre dressed as a Zulu warrior. Not only did this act drive the Virgin brand forward, but it also shot Sir Richard back into the limelight. In 2010, over five million passengers were flown across the world by Virgin Atlantic.
Jumps Off Palms Hotel Casino to Celebrate Virgin American Flight

To promote Virgin American Flight, Sir Richard took part in the potentially dangerous activity of bungee jumping off Las Vegas' Palms Hotel Casino. He jumped 407 feet before the harness and cable took full force, and the act did not run smoothly. He hit the building twice, and ripped material off of his trousers—all in the name of publicity. This act of courage saw Sir Richard, and his Virgin brand, somersaulted into the media limelight. Some people believed that this stunt would harm his public image, but the significance of this act was one of bravery.
BA Can't Get it Up

To compete against popular airline, British Airways, and to set his Virgin Airlines brand above the rest, Sir Richard took advantage by sticking an airship above the London Eye with the phrase "BA CAN'T GET IT UP'. This stunt occurred after the giant ferris wheel would not move from the ground. With British Airways as proud supporters of the London Eye, Sir Richard felt it was his duty to pull another PR stunt to highlight his profile. This turned out to be one of his most memorable stunts.
Richard Branzilla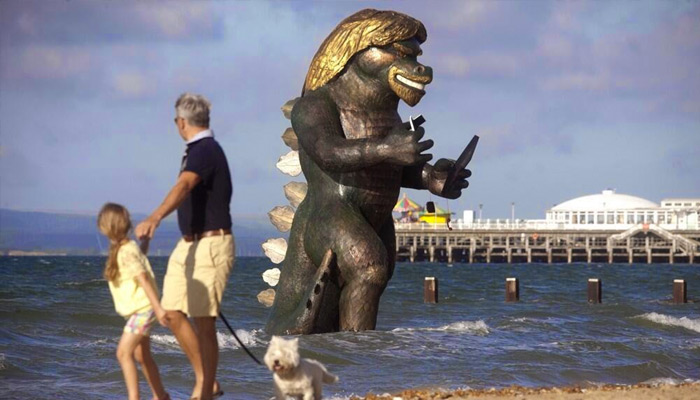 With the launch of the latest Godzilla movie, Sir Richard took advantage of the strong PR surrounding the movie by creating an 8ft sea monster with blond locks. The stunt, which took place in Bournemouth, was in an effort to promote his latest Virgin Media bundle deal comprising super fast 152MB fibre optic, landline, and a mobile for only £45 per month. The support structure of the sea monster itself took over 500 hours to complete, but Sir Richard is known for his crazy stunts, which boost his profile.